Here is an interesting article written by Jim Glendinning, an avid traveler and friend,  who visited Romayne Wheeler in December of 2010. For more information about Romayne, please visit his website: www.romaynewheeler.org
The Pianist of the Sierra
by Jim Glendinning
It is 5.00 a.m. on a cold December morning and I am sitting in an office in the warehouse district of Cuauhtémoc, a provincial town 60 miles west of Chihuahua City. With me is my travel companion, Pilar Pedersen, who is explaining in fluent Spanish to a bearded Mexican man about the used clothes we have brought with us. The bearded man is Rene Bon, the President of the Board of Directors of the Cuauhtémoc Food Bank, whose office we are in.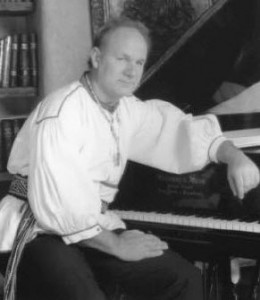 The clothing Pilar was talking about was donated by supportive and generous Big Bend area residents. Food Bank, Cuauhtémoc, which extended the invitation to us to make this trip, suggested we bring some used clothing. We advertised locally and got a huge, generous response including donations. Then we found that the Mexican Government no longer permits used clothing into the country. So we had a sale which realized some more funds. We packed a few bags of unsold clothing with our own stuff, and got through Mexican Customs without incident.
By 6.30 a.m. a total of 27 other persons have turned up, and we are ready to leave in a convoy on the first stage of our 4-day trip into the Sierra Tarahumara, the portion of the Sierra Madre Occidental which is home to the 80,000 strong semi-nomadic tribe. Two hours on a good road takes us to Creel, the gateway to the Copper Canyon region where we are served a cooked breakfast in a lodge at the edge of town. After eating, the group assembles outside and forms a circle around Rene. He makes several logistical announcements about the rest of the day, and then invites the group members to introduce themselves.
Making up the group (all Mexican) are several Food Bank personnel including the tireless Rene Bon, a Chihuahua theater group of students, a doctor, a dentist, a physiotherapist and a few elderly New Age types. There is also an Austrian woman working for a children's charity in Mexico City, and a friend of hers, a secretary from Sweden working for the European Parliament in Luxemburg. What brings us together on this trip is the chance to deliver food and clothing to a remote Tarahumara settlement called Retosachi.  Food Bank Cuauhtémoc delivers food to this village 2-3 times a year, and this time, being near Christmas, the visitor group will put on a posada (a Mexican Christmas enactment). The Chihuahua theater group will act out a play for the Tarahumara, more correctly called Rarámuri, and others will do painting classes. The doctor will provide medical check ups.
We are also going to hear a concert by an American concert pianist, Romayne Wheeler, who has lived in Retosachi for 20 years. Wheeler has spent most of his earnings from giving concerts world-wide over 25 years on the hospital in Creel and more recently to scholarships for the local Rarámuri. He has been accepted into the Rarámuri community and now lives among them in a cliff-top house called the Eagle's Nest. He has a Rarámuri godson, his first pupil, who is a talented musician.
We turn off the road to Batopilas onto a dirt road, then one of the pick ups breaks down. The vehicles carry 800 bags of food plus our bags of clothing and medical supplies. We load three piñatas (colorful papier-mâché figures) onto the roof of another vehicle and redistribute the other goods and people. We follow the dirt for 4 hours until we reach our destination, Retosachi, 36 miles away, after dark. We have brought sleeping bags and pads, and most of us bed down on the floor in of a new clinic building, completed but empty of equipment.
It was a colorful scene the next morning, around the three buildings which face the deep Munerachi canyon. Colorfully dressed figures approached, in small groups or individually, many of the women carrying kids on their backs. Some held back in shyness before sitting down on the ground to await events. Some had walked for two days to get here. All wore Rarámuri clothing. The men wear huaraches (sandals), a white loin cloth, a colored shirt with half sleeves, and usually a baseball cap.  The women are dressed in ankle length dresses in yellow, green or blue, trimmed at the edge, with a decorated blouse, buttoned at the neck. Often a young child is carried on their back in a sash.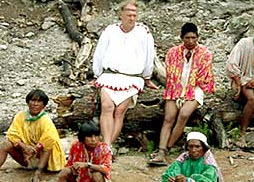 Many lined up to pick up bags of food in which came in two sizes.,  The more expensive contained 11 items including sardines and beans, soap cost the equivalent of $2.50. They sat around in clusters on the ground watching and waiting, talking quietly. The theater group started painting lessons with the Rarámuri kids, including a mural. Later the same group put on a 20-minute play acting out a skit about Rarámuri life which broke through the shyness of the audience and got some good laughs. There was a general hum of noise.
Next the three piñatas, suspended from a wire between two buildings, were clobbered by stick-wielding Rarárumi boys and girls, spilling from their interior candies galore. Later clothing was held up for sale (10c per item was the norm). Food Bank was careful to point out to us that they always charged even a nominal price believing that this had more effect than handing stuff out for free. Then everyone formed into three lines in front of the kitchen and Romayne Wheeler handed each person (more than 800 adults and kids) a sandwich and a cold drink. Lastly, free towels were handed out, the kids scrambling with glee to seize as many as possible. As it grew dusk, most headed back to their homes.
Visible because of  his central role, and size (taller and broader) and dressed in Rarámuri clothing, Romayne Wheeler's quiet presence nevertheless was central to the occasion. I had looked at his website (www.romaynewheeler.org) and had got an early impression of the man from the way in which he greeted us and interacted with the Rarámuri: modest, humorous, easy going. I fixed up to talk with him the next day at the Eagle's Nest.
Next day Romayne Wheeler led Pilar and I outside of the Eagle's Nest, which clings to the top of a cliff, to a bench under a tree looking directly down into the canyon. He told his story.
Born in 1942, he grew up in California, graduating from high school in 1960. Already writing music at age 7, in 1952 he heard Segovia give a concert in San Juan, PR and on the spot determined to become a musician. He went to Austria in 1961, spent a year in Salzburg then studied in Vienna for a total of 12 years, earning degrees in composition and as a concert pianist.
Returning to the USA, he started touring and playing, nationally and internationally, which continues today. During a weather-delayed trip in New Mexico in 1980, he came across a copy of National Geographic magazine in an Albuquerque café which featured a story on the Rarámuri. He spent 1980-1981 hiking the area and sleeping in a tent. He teemed up with a young Japanese tourist who knew no Spanish, but was an expert in origami (making designs out of paper) which endeared them to the Raramuri. Having spent time earlier with the Hopi, he describes meeting the Rarámuri as "coming home". In Creel he met Father Verplanken SJ who painted a stark picture of the Rarámuri needs. Wheeler contributed three quarters of his earnings to the Sta Teresita hospital in Creel from 1985-2000.
The connection between the world of nature and the world of the soul is what Romayne Wheeler finds in the life of the Rarámuri. As a composer he creates music which is in tune with the nature which is all around him in the sierras. "I have finally arrived where I yearned to be" he says. But he needs to go back regularly to the modern world to perform concert tours for income to support his local projects. His next tour is local to Mexico. Next week he will be helicoptered onto a Mexican prison island, Islas Marias, in the Pacific to play in front of 4,000 inmates and 6,000 dependents.
The last night we visitors and a handful of Rarámuri sit on seats and on the floor of Wheeler's living room where his 1917 Steinway grand piano occupies central position in front of a huge glass window. For an hour and a half he plays a selection from Liszt to Scott Joplin interspersed with his own work, ending in the pitch dark with a Chopin composition.  We return to urban life in Cuauhtémoc the next day with memories of the high sierras, gentle people and beautiful music performed by a remarkable friend and benefactor of the Rarámuri.