The ground breaking ceremony of the new airport in Creel, Chihuahua, in the heart of Mexico's Copper Canyon was on January 3rd, 2011. The new airport is estimated to be up and running by summer of 2013 at a cost of about $300,000,000 pesos.
The governor of the state of Chihuahua, Cesar Duarte and the secretary of Economy, Alberto Chretin, were in Creel last Monday to witness the first stone being laid.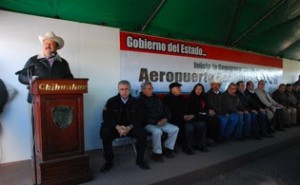 Ivan Fernandez of Amigo Trails & The 3 Amigos was invited to take part in this historic event that will help to modernize the Copper Canyon and bring the entire Sierra Madre within reach of all international visitors.
The Sierra Madre is in line to become another thriving tourist destination in Mexico as the area is developed bringing water lines, better electrical installations, more roads and airports, as well as the Divisadero Cable Car and surrounding EcoAdventure Park in that area. Much more is slated to be done in the general vecinity and we'll post on that as it happens of course.
The alpine town of Creel sits in the middle of the Copper Canyon and is in a perfect position to offer visitors a nice base from which to strike out and see the surrounding canyons. Creel was named a Magic Town in 2007 and was given funding for new sidewalks, underground electrical lines, new roads and more. It has been developing nicely and this airport will only add to its accessibility.
El Fuerte, Sinaloa, the Gateway to the Copper Canyon, just an hour outside of Los Mochis at one end of the famous Chepe trainline, was named a Magic Town in 2009. Together, these two cities and the Chepe trainline will bridge the states of Sinaloa and Chihuahua together, allowing world wide visitors to enjoy improved services in the canyons.
To see one of the newspaper stories covering the event, please follow this link.
Comments
comments