The first annual Batopilas hosted Bike Rally was held on March 19th, 2011. This rally was created to highlight the alternate routes of adventure being created by the Batopilas/Guachochi and Urique municipalities in a joint effort to open up the area to more tourism, specifically adventure tourism.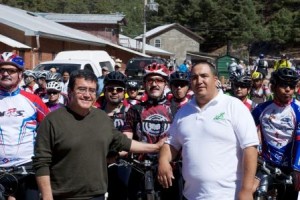 The rally began at 10am in Samachique with over 100 participants, and ended in Batopilas at 9pm at night. The participants were amazed at the majestic scenery and the adventurous route and found no comparison with other routes they have biked in the past.
This new route crossed into some of the most inaccessible and hidden areas in the sierra and truly exposed the unknown beauties of the Copper Canyon. The route passed through the high sierra from Samachique, along the eastern edge of Urique Canyon and finally into the rich mining areas of Batopilas canyon, descending about 6,000 feet in total
The route crossed through the small villages of Corareachi and Cienegita, both in the municipality of Urique. The villagers were enthusiastic about so many visitors and carried with them a message of peace and solidarity for all villages in the sierra.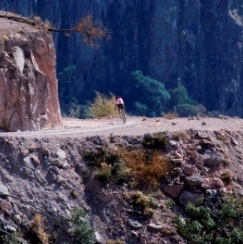 'The Route of Adventure' as it is being called, has the potential to be a bicycle race of international proportions not just for the beauty of its scenery but also for the level of difficulty it presents. The 100 km route offers a real challenge for all participants with variations in altitude from 100 to 500 meters with a final descent of 1500 meters and a promise of a finish in one of the loveliest and picturesque villages in the sierra, Batopilas.
This year, only 30 participants finished the event unaided with the rest needing assistance by support vehicle, not due to lack of energy or strength but because they simply ran out of daylight. Many were disapointed not to have made it all the way but they were still excited to be a part of it and have pledged their return for the event in 2012.
The state biking champion, Diana Almeida, was one of the first cyclists to finish the route and proclaimed it to be a great challenge and fantastic ride with the potential to be one of the great routes in the future for all cyclists.
The mayors of all 3 municipalities were present at the beginning and end of the race to applaud the efforts of all participants and to host the dinner party reception for all. Musicians played and the indigenous Indians of the area danced. It was a night to remember for all and fortuitous as well that the 'SuperMoon', a moon that is 14% larger than normal and only occurs every 18 years or so, was lighting up the skies.